RACV Caravan Club
We rally each month at a different location within Victoria. The 6 divisions usually go in 6 separate directions and whilst most members prefer to attend their own divisional rally, all are free to visit any other division. It just means a phone call to the Secretary of that Division to make sure there are sites available. Periodically we hold a combined rally for all of the divisions.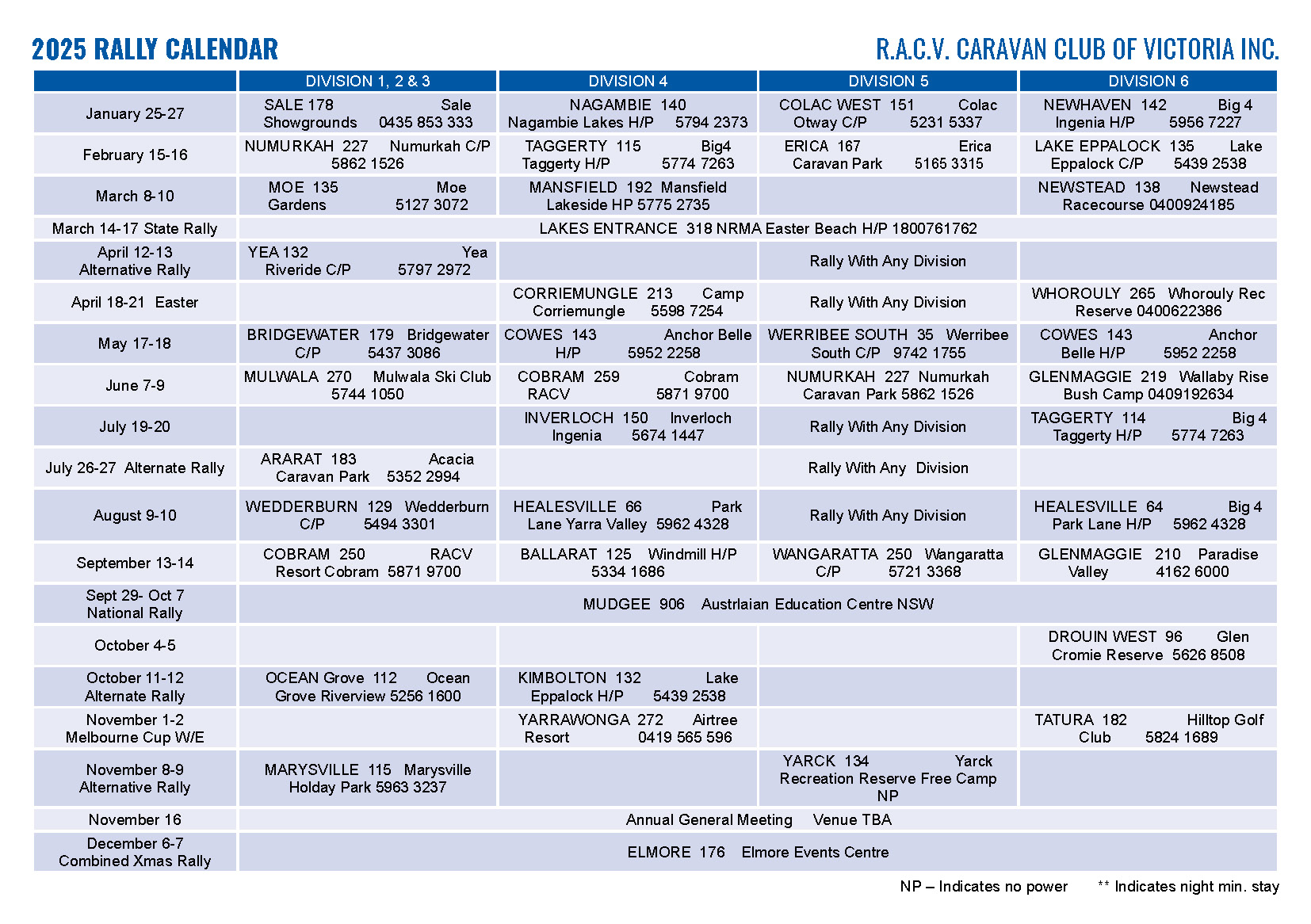 Join Us
Would You like to Join us?
You are welcome to email
Veronica Montauban
or call on 0491 133 008 and she will send you an information pack or you can visit any division of your choice to find out for yourself. Check the Rally Calendar for a weekend and destination that suits you. We just ask that before your third visit you join the club. If you would like to give us a try please contact the secretary of your selected division and let them know that you are coming. Everybody will make you very welcome. ….And if you enjoy your caravan and enjoy fun and friendship we are sure you will love the RACV Caravan Club.
Visit our
Downloads
page for a Member Application Form and Rally Calendar.
Committee
The Executive Committee of the club comprises the President, the immediate past President, the club Secretary, the club Treasurer, the Activities Director, and the Vice Presidents of the 6 divisions of the club. The Newsletter Editor is not a member of the executive but attends executive meetings for the purposes of collecting necessary information for publication in the newsletter. The details of the responsibilities of these executive members may be found in our constitution but as a group they are responsible for the management of our Club.
Cameron's Bight

In addition to our monthly rallies we are fortunate to have a bulk booking at Cameron's Bight Foreshore between Sorrento and Blairgowrie. The park has absolute frontage to Port Phillip Bay and is managed by the White Cliffs to Cameron's Bight Foreshore Committee. We have many sites available to our members thoughout Summer enabling them to enjoy the beach, boating, golf fishing, shopping, dining and generally great holidaying amongst family and friends. During the Summer season we hold our own club social events in the park for adults, children and families. Applications for sites are made in May and sites are normally allocated by the begining of July. To book a site members submit an application to the Club Executive and the allocation of a site to an individual member is based primarily on the number of rallies attended throughout the year.
Play this video in full screen to experience what a wonderful place Cameron's Bight is.
Visit our Downloads page for a Cameron's Bight Camping application form and Map of the camp ground.
About Us
In 1937 Melbourne witnessed a cortege of hand-made caravans heading out on their first-ever rally. The RACV Caravan Club, the first such club in Australia, had just formed. Its 100 members with their 32 caravans were heading for Barwon Heads for the weekend. Thousands turned out to see them.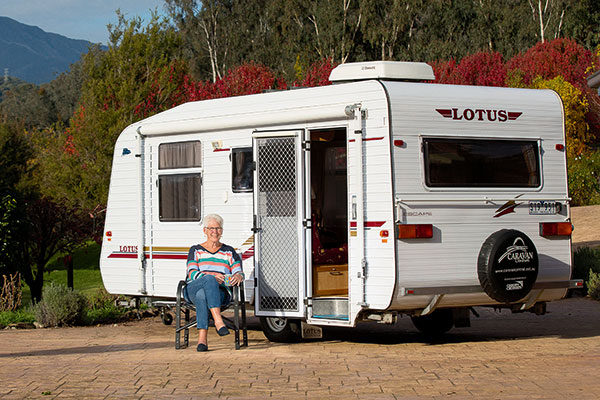 Sandra Eldridge, (pictured) its "official historian" says that in the early days RACV was keen to replicate the growth in caravanning then happening in the UK and US. "RACV was formed in 1903. By 1936 there had been an increasing number of articles extolling the virtues of caravanning and the wonders of camping beside the beach or beside nature for very little cost," she says. 'Motor gypsying' was portrayed as the cheapest way for a family to travel, and the idea became so popular that the RACV magazine published instructions on how to build a caravan.

Only during World War II did the rallies stop, resuming in 1946. Slowly the membership grew, and suburban caravan parks in Frankston, Eltham, Sorrento, Yackandandah, Daylesford, Mildura and Tallangatta became club favourites.

People joined through word of mouth and by the 1970s it was the biggest caravan club in Australia with 1200 members. The club was divided into five divisions and each organised its own rallies. Members would leave home on a Friday, drive to a rally, set up in a caravan park and then the fun began – eating, socialising and playing games. It still happens that way.

"We do silly things… people dream up activities," Sandra says. "There are dance and movie nights, picnics, visits to local attractions, campfires, games for the kids, fishing and afternoon tea. The conviviality is quite unique. Our children loved it."
Site & Contents © RACV Caravan Club. All Rights Reserved.